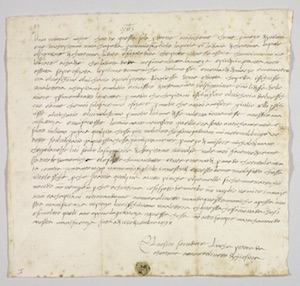 <!-img alt="billboard" src="/media/archive/img/image3.jpg"/-->
Letter from Signorelli to Corrado Tarlatini (recto), paper, Pierpont Morgan Library, New York, Ms. MA 4261 (purchased as the gift of Mrs. Landon K. Thorne, Jr., 1985). Copyright: Pierpont Morgan Library.
†Lidia Mazzerioli
Lidia Mazzerioli (1.1.1947-26.3.2013) was a relentless archival scholar in Umbria. Having graduated in Lettere she became an almost daily visitor to the Archivio di Stato in Perugia and went on to work for and eventually preside over a cooperative dedicated to the study of Umbrian history: the Società Cooperativa Archivio e Civiltà. She collaborated with the Istituto di Storia dell'Arte Medioevale e Moderna of the Università di Perugia, working closely with Prof. F.F. Mancini on Raffaello in Umbria (1987), Benedetto Bonfigli (1992) and many other book and exhibition projects.